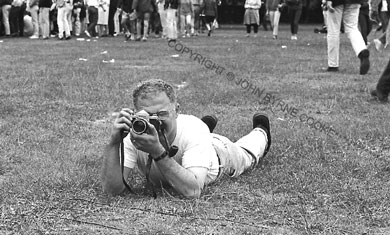 David Gahr was easily one of the most iconic music photojournalist of our time, and certainly "the man behind the camera" for most of the images that captured the folk revival(s) from the late 1950s through to the 21st century, died in his Brooklyn, NY, home yesterday, May 25th. David was, alternately, gregarious and a "gentle curmudgeon" known both for his brilliant, artful photos and a larger than life personality.
David's photos graced the pages of Sing Out! for most of our 58 years of publication, as well as Rolling Stone, Time, Newsweek … and virtually every other publication of note for the last half-century. His photos of Dylan, Springsteen, Baez, and, literally hundreds of folk, blues, country, bluegrass and other roots artists became the photo diary of our time and out culture.
David turned 85 this past September. He was a supportive and very generous friend to Sing Out! … and will be sorely missed. Our condolences to his family and close friends.
There will be a graveside burial service for David at Mt. Hebron Cemetery in Queens, on Thursday morning, May 28th at 11:00 a.m.
The photo of David Gahr at the 1964 Newport Folk Festival is © John Byrne Cooke.